Grilled Eggplant
Ingredients: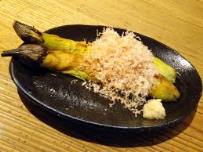 2 eggplants
Grated daikon radish, as needed
Grated ginger, as needed
Shaved dried bonito, as needed
soy sauce, as needed
Directions
1. Make a shallow cut around the stems and pierce in several places with skewers.
2. Cook the eggplants side by side over high heat in an oven or on a grill. Grill thoroughly while rolling the eggplants until blackened all around.

3. Place them in cold water and peel. Drain well and serve garnished with grated daikon radish, grated ginger and shaved dried bonito. And pour soy sauce on it.
Your IP Address is: 3.236.225.157