Niku-Dofu(beef and tofu)
Ingredients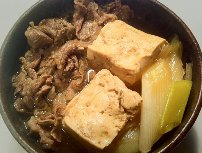 1 block(300g) firm tofu (momen-dofu)
150g thinly sliced beef
2 naganegi(japanese leeks)
1/2tbsp sesame oil
A { 1 1/2tbsp sake, 1cup(200ml) dashi stock, 1 1/2tbsp sugar, 2tbsp soy sauce }
Directions
1.
Cut the tofu into bite-size cubes and set in a strainer to drain for 20 to 30 minutes.
2.
Cut the naganegi into small pieces.
3.
Heat the sesame oil in a pan and saute the beef. When the beef begins to change color, add the naganegi.
4.
When the naganegi is browned, add A.
5.
When it starts to boil, turn to medium-low heat and remove the scum.
6.
Add the tofu and simmer for about 15minutes, stirring occasionally.
Your IP Address is: 3.236.225.157