Japanese pasta with shimeji mushroom
This is an original recipe of nagatanien corporation.
Ingredients(1 servings);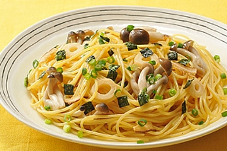 100g pasta
50g shimeji mushroom
1 pack matsutake mushroom soup
5g butter
1/2 tsp soy sauce
wakegi(chopped green onion) as needed
Directions;
1.
Boil pasta as instructed on the package. Add shimeji mushroom, boil together about 2 minutes before finish.
2.
Dress the powder of matsutake mushroom soup, butter and soy sauce well. Place on a plate and top with wakegi.
* You can use your favorite mushroom instead of shimeji mushroom.
Your IP Address is: 35.172.203.87