Tonkatsu(deep-fried pork loin cutlet)
Ingredients:(2servings)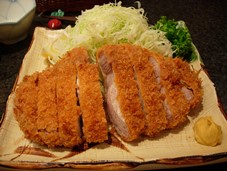 Directions
1.
Finely slice the cabbage and immerse in cold water to make it crispy fresh, and then drain.
2.
Make incisions in the pork sinew. After lightly pounding it, from it back into its original shape and season with salt and black pepper.
3.
Beat egg well, set aside in a shallow bowl, spread flour on a deep plate, and put bread crumbs in a large bowl.
4.
Coat the pork loin with flour, then the beaten egg, then the bread crumbs.
5.
Heat the plenty of frying oil to between 170 and 180 degrees. The oil is at the right temperature if bread crumbs dropped in come right back to the surface. Then put the pork in.
6.
Turn pork once halfway through cooking, continue deep-frying until golden brown.
7.
Let the oil drip off, and cut into easy-to eat slices. Then serve with finely sliced cabbage and karashi mustard, and flavor with tonkatsu sauce.
* Make incisions in the pork, so that it doesn't shrink in deep-frying it.
* Tonkatsu is always served garnished with finely sliced cabbage. It is a must.
* Tonkatsu sauce is usually used. But
sesame sauce
,
ponzu
,
soy sauce
and
soy sauce with grated daikon radish
are also used instead of tonkatsu sauce. Try with your liking.
* Panko(japanese bread crumbs) is much larger than the bread crumbs used in the United States and Europe. Fine bread crumbs are not used in Japan. So pork cutlet coated with fine bread crumbs is not called "Tonkatsu" in Japan. Using panko gives tonkatsu crispy result. We really recommend you to use "Panko" for cooking "Tonkatsu".
* You can also use pork tenderloin instead of pork loin. Pork tenderloin cutlet is called "Hirekatsu" in japanese.
Your IP Address is: 3.236.225.157