Osuimono (clear soup)
Ingredients:(2servings)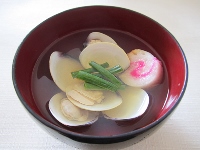 2cups(400ml) dashi stock
5ml(1tsp) light(thin)soy sauce
Just a touch of salt(1/2tsp)
Your favorite ingredients
* Ingredients commonly used in Japan; tofu, kouya-tofu, fu(dried wheat gulten), kamaboko fish cake, clam, short-necked clam, shrimp, crab, white-fleshed fish, shiitake mushroom, matsutake mushroom, japanese fonewort, rape blossoms, sliced carrot, etc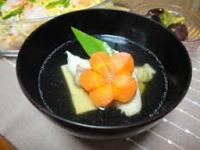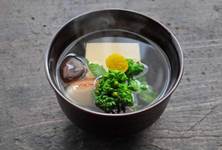 Directions
1.
Warm up dashi stock, add soy sauce and salt.
2.
Put your favorite ingredients in it, simmer it until cooked through.
3.
Assemble them in the soup bowl before adding the hot dashi.
* The suggestions for the dashi are just that,suggestins, so adjust the seasonings according to your own taste.
* Dashi stock is very important for Osuimono, so you should use a dashi prepared from dried bonito and kelp. A dashi from Kelp is paticularly indispensable for Osuimono.
* Osuimono is very healthy soup, so meat is not generally used in Japan. You can add "Tsukune(chicken meatball)", but no beef and pork.
* Japanese honewort is not cooked, add in the soup finally.
* You should not add ingredients too much. That's Osuimono.
* Osuimono added somen is called "Nyumen" in japanese.
* You can add a touch of
ginger
or yuzu citrus,too. Very good flavor!
Your IP Address is: 34.207.247.69