Tonjiru(pork and vegetable miso soup)
Ingredients:(2servings)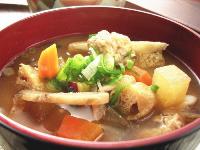 2cups(400ml) dashi stock
30〜45g miso paste
50〜100g thinly sliced pork
vegetables as desired(taro or potato, carrot, onion, daikon, burdock root, konnyaku, etc)
tofu as desired
Directions;
1.
Cut all the vegetables into bite-size, the tofu into cubes.
2.
Heat a small amount of oil in a flying pan, fry pork. when it turns color, add vegetables, and stir-fly.
3.
Add dashi stock, simmer until vegetables are soft while removing the scum.
4.
Add tofu and miso.
* Sprinkle
ichimi
or
shichimi
with your liking.
*
Instant Tonjiru
Your IP Address is: 3.236.225.157