Kake Soba(Udon) : Hot Soba(Udon) noodles
This is a basic of hot soba(udon)
Ingredients:( 1serving)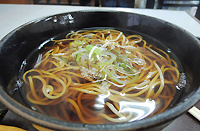 90-100g dried soba(udon) noodles
mentsuyu(noodles sauce) as needed
Directions
1. Cook the soba(udon) noodles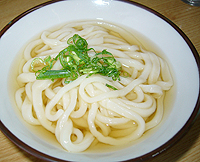 Bring a full pot of water to a boil and cook the noodles as instructed on the package.Put the cooked noodles in a strainer,rinse with cold water,and drain well.
2. Make soba(udon) noodles soup
Dilute broths for Soba&Udon(mentsuyu) with water as instructed on the package,and boil it.
3. Finishing
Just warm the noodles lightly in hot water,and drain well.Place the soba(udon) in a bowl,and pour hot soba(udon) soup.
Add red pepper, seven-spice red pepper, Agetama, or your favorite ingredients as you like.
Your IP Address is: 18.205.192.201